Grace Wickerson
Grace Wickerson took what started as a Girl Scout service initiative project and turned it into a nationwide organization devoted to empowering young women through specialized martial arts training and peer-to-peer support. Grace has since used her personal struggles with assault to build Kickin' Violence, which works to provide others with the tools they need to overcome similar obstacles while building self-confidence. Her efforts have transformed many lives, as well as her own.
Age: 19
College: Rice University
Majors: Materials Science and Nanoengineering
Expected Graduation: Spring 2020
Website
What inspired you to create your organization Kickin' Violence?
Kickin' Violence started in August 2013 as my Girl Scout Gold Award project, which is an 80-hour service initiative that only five percent of registered Girl Scouts ever achieve. My inspiration for the project came from my mom, who spoke about how my years of martial arts trainings had empowered me to be a strong and fearless young woman, and how what I've gained could be used to help others.
I started small, and worked with my local YMCA to put on a self-defense workshop for girls. The response was amazing; I remember one girl telling me, "Wow, we need more of this." And so I began making the rounds, working with all kinds of community partners from schools to Girl Scout troops to the Boys and Girls Clubs. Most of the young people I worked with weren't too different in age from myself.
Because of this, I was told by one girl that she felt more comfortable talking to me about her relationship troubles than she did with adults. This was not a singular incidence, but rather a trend showing that young people are aware that violence exists, but often don't know what they can do about it. I began grounding Kickin' Violence in this idea of "by youth, for youth," because I believe engaging youth at a peer-to-peer level is key toward creating a community behind the idea of future without violence. I believe it's that philosophy that has helped us grow to where we are today.
How has the work you've done so far positively impacted your life?
Sometimes I forget myself when I think of the impact this organization has had. When I talk about my work, the primary way I describe impact is in the numbers of people we have helped: with nearly 4,000 young people educated, 87,000 survivors of domestic violence helped, $700,000 raised for domestic violence survivors.
I tell stories from survivors of domestic violence who've benefited from our shelter donation programs, about how our letters are what helps them know that they matter. But never do I really talk about the impact it has had on my life, mostly because I fall into the trap of thinking that talking about how this organization has benefitted me is inherently selfish. But, honestly, being a part of this organization has opened so many doors and allowed me to meet so many amazing young leaders and inspiring individuals from all around the country.
Because of my work with Kickin' Violence, I was awarded enough scholarships to attend college on a full-ride at one of the best schools in the country. My work has also empowered me to speak more about my assault and show others that survivors are strong and will not be silenced. We are here and we are ready to change the world and make it a violence-free place.
What has been the hardest part of the entire process of starting an organization and being at the forefront of helping others? The most rewarding?
Balancing my work with Kickin' Violence with the rest of my life is likely the hardest part of overseeing a national organization. As Kickin' Violence has expanded, I have also had to readily adapt to not being a "normal" teenager anymore. For the past three years, my work with Kickin' Violence has always come first with school and my social life taking the backseat. I have definitely put the needs of this organization before my own more than once (more like every time) in order to expand the organization to help more people. Long sleepless nights, endless weekends of travel, thousands of phone calls and emails, it's an endless cycle of work. But the thing is, I wouldn't give it up for the world.
It is a privilege to be able to use my voice to inspire other people and to be able to utilize my creativity to create change. Helping people make the most of themselves and realize their full potential is what gets me up in the morning. Traveling to meet other amazing young nonprofit founders or run events for improving anti-violence education make every second I spend traveling worth it, every dollar I invest a meaningful return. I have realized that while it isn't going to be easy to change the world, it's a daily personal challenge, but every day is a reward and the people I get to meet and interact with have helped give my life a purpose.
As a young woman yourself, what advice do you have for someone who is passionate about a cause and wants to contribute to being a positive force the way you have done for victims of violence?
I think the thing that I always emphasize is that you don't need to be rich or have connections or have a pre-defined plan to start making a difference. I come from a small town in Florida where there really weren't many programs or even funding to support big ideas from someone my age. But I did have an idea that I wanted to see happen, even if I had no clue on how to make it happen.
The big thing to know is that it's okay to start small. I always remind myself that "Rome wasn't built in a day" and so in the same way my organization isn't going to be getting 100 new partner schools all at once (I wish), the same way there is nothing wrong with starting with helping one person. Because of you, that one person has a better life. Get a friend involved, talk to a professor or trusted mentor for advice, scour your university's website to look for opportunities for new ideas or find local organizations that you can partner with. There is someone out there that wants to help you, or can point you toward help.
Finally, and something I still work on, is to be okay with failure. As women, we are taught to avoid experiences that could lead to failure – to be safe, comfortable. But the thing is, failure is the key to growth, because failure teaches us where we need to improve. So when your organization or project or invention encounters a failure, take a step back, reflect with friends and trusted advisors, and form a plan to make your idea even better.
How do you predict Kickin' Violence will grow as an organization in the future?
My work now is focused on scaling our education programs on a global scale. I am starting to work with school districts across Florida and Texas to examine their current dating violence policies and recommend areas of improvement. We are also working to get chapters of our student action teams in middle and high schools across the country to get young people actively working to educate their peers about violence.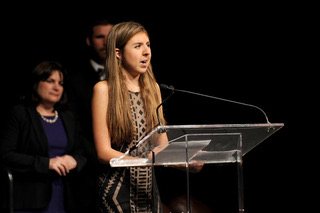 I am also piloting at Rice University a mentorship program for college students to go into high schools in the Houston area and talk about their experiences with violence and provide education. I'm also partnering with another amazing organization, Project Consent (run by 2016 22 under 22 winner Sara Li) to build an app to help sexual assault survivors seek help and support. Finally, I'm traveling to schools around the world to implement martial-arts training and anti-violence education, with our most recent partner school being Casa Guatemala in Rio Dulce, Guatemala, where I was able to train 250 students and create a sustainable training program as a part of the physical education curriculum.
Besides Kickin' Violence, what other projects have you been involved with that have had an impact on your life?
I'm not going to lie, I love to start things! If you've known me for long enough, you know that I am an ideator, who is always looking for places that need innovations and coming up with ways to solve that need. One of the projects that I am working on now that I am most proud of is a tech startup, Solver Labs (check us out at solverlabs.io), where I serve as Founder and COO, building software and digital experiences that more efficiently and effectively match job seekers with job providers through natural data collection techniques. We aim to use technology as a tool to ensure that every person can reach his/her potential, regardless of class or creed. We want to build a tool that evaluates people not on what they did, where they worked or where they went to school, but on the things they do and the person they are, their emotional intelligence, critical thinking and creativity. We seek to create a job market where people don't have to scrounge for jobs that barely meet their needs, but rather jobs come to them based on their skill set. From this work, I've realized that social benefit is not just something that can be created by non-profits, but that business can also drive social change and progress to help people be their best selves. We have an amazing team, and while the road ahead is long, I have no doubt you'll be hearing about this initiative in the next couple of years, and maybe even start using us!
What goals and aspirations do you have for your future, both in college and post-grad?
For college, I am dedicated to improving my university in any way I can, focusing on initiatives to increase student involvement in student government and providing pathways through which they can improve the university. I am working on initiatives for sustainability, accessible food options, support for student innovation and entrepreneurship, and programs to benefit low income students.
I'm also going to work to build education programs for engineering students to learn how they can apply their technical skills to help others, and work to expand this program to schools across the country. I will also continue growing Solver Labs to colleges across the country, so that we can ensure a more equitable hiring situation for those without fancy opportunities or college pedigrees. My post-grad goals, I'm still figuring out, though I know that I want to pursue graduate school with the aim of eventually becoming a university professor. Working from this position, I hope to build an organization that is a think-tank and technology incubator for technology and engineering innovations that solve one of the major challenges listed in the United Nations Sustainable Development Goals. I have a lot in the works, so stay tuned!
How would you describe yourself in five words?
Advocate. Motivator. Dedicated. Changemaker. Vegan-Foodie.
Taylor Petschl
Taylor Petschl is a fourth year journalism student, concentrating in public relations at Cal Poly SLO. She is one of Her Campus Cal Poly's campus correspondents, a Her Campus Media editorial intern, campus expansion region leader and a national blogger for the Style and Beauty sections. She plans to attend medical school after graduating, and hopes to become a pediatric anethesiologist.